Ling's Moment Wedding Aisle Decorations 1.8ft Flower Garland Arrangement for Ceremony Chairs/Table Centerpieces/Arch Decor, Set of 6 - Terracotta (not Include Lantern)
Hurry, only 3 items left in stock!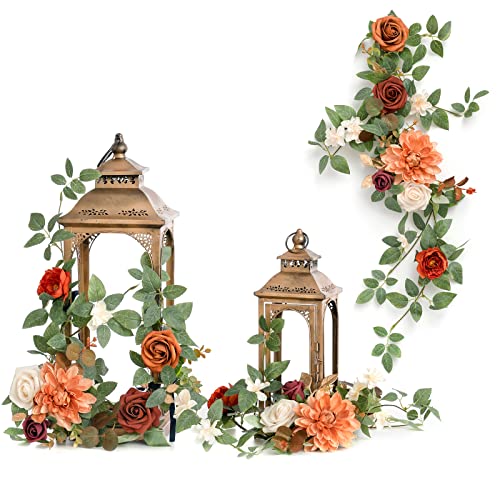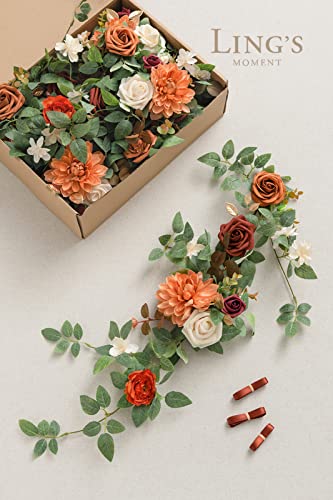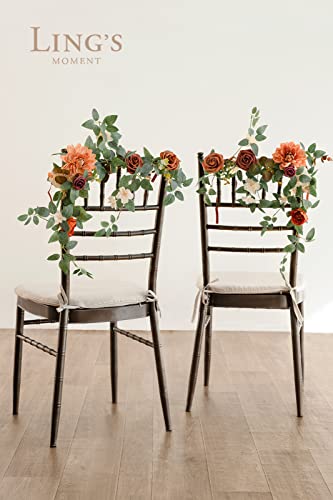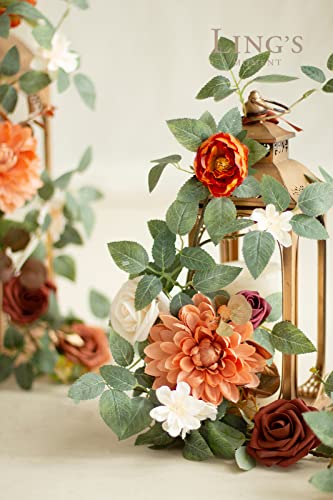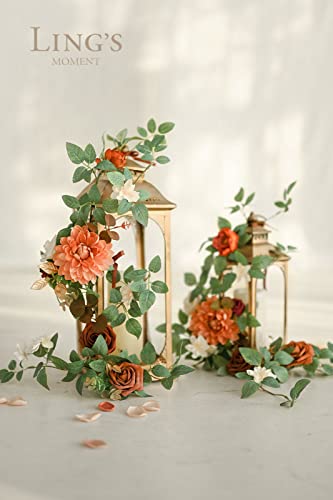 Product Details
Brand: Ling's Moment
Color: Terracotta
Features:
Size& Package: The aisle flower arrangement is ready to use. Each one is approx. 1.8ft long. Including pack of 6 Aisle flower decor, coming with 12pcs ribbons in the length of 24inch to adapt to different usages. Please note lantern is not included
Material: This aisle flower garland decor is made with silk and foam handcrafted flowers. Including burnt orange rose, burgundy rose, amber rose, cream rose, golden leaves, and realistic rose leave garland
Easy Set-up and Clean-up for Chair: The ribbon ties and adjustable garland made it very easy to tie on the different chairs. When the ceremony is finished, just several seconds to remove and transfer it for table or party decor
Multiple Uses: Best suitable for hanging on the chairs/ pews, also can be used to decorate the lanterns/ arch/ sweetheart table/ welcome sign, or just lining the aisle with them
Note: Though it's well packaged with a kraft paper box, the flowers might be a little deformity due to shipping and packing, please softly knead the petals to help recover the shape
Part Number: AIS-LM13-TER20INS-6
Details: Package: Aisle flower x6+ ribbon x12 Size: each one is 1.8ft long, and each ribbon is 24inch Budget-Friendly for Different Usages Not only used in the ceremony which lasts several minutes, easy to set up and a beautiful decor in your wedding ceremony group photo, but also can be used for arch/ welcome sign/ table/ lanterns, just untie the ribbon and put them again, this floral arrangement will be reusable. Ready to Use Designed in the same color theme, this lantern garland is ready to use and easily fits for a straight and flat wedding decor display, reusable& releasable& adjustable ribbon ties attached for kinds of scenes Permanent flower beauty The artificial flower is an alternative to expensive fresh flowers and dried flowers which are easy to collect dust, they will stay and look beautiful very lifelike all day, not wilting and turning brown.
Package Dimensions: 15.8 x 11.7 x 5.0 inches
Amazon Affiliate

Oaklynn Lane is a participant in the Amazon Services LLC Associates Program, an affiliate advertising program designed to provide a means for sites to earn advertising fees by advertising and linking to oaklynnlane.com.