Ling's Moment Artificial Flowers Dusty Rose & Mauve Ombre Colors Foam 25 Pcs Rose 5 Tones for DIY Wedding Bouquets Centerpieces Arrangments Decorations
Hurry, only 3 items left in stock!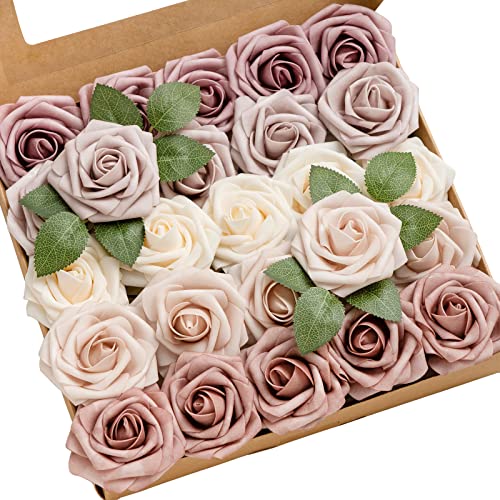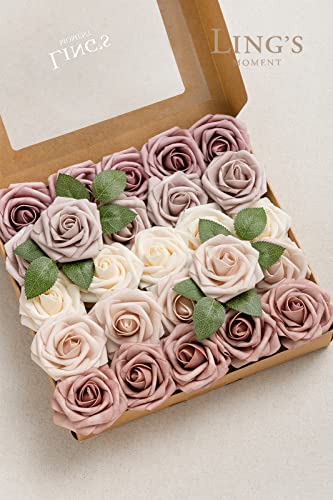 Product Details
Brand: Ling's Moment
Color: Shades of Dusty Rose & Mauve
Features:
Perfect for wedding: The roses are approx 3 inches wide, they make the perfect choice for bouquets, flower girl baskets, centerpieces, flower arrangements, and other wedding decors.
Simple to DIY arrangments: The stems are about 8 inches long. They are thin and flexible which makes them easy to wrap around garlands, arches, or banisters. The stems are also easy to cut down or pull out making it easy to decorate floral letter signs, chalkboards, and walls.
Soft material: These artificial roses are made of a soft high-quality PE foam which gives them the look of fresh roses and touches soft. They are durable and could maintain vivid color for a long timeAdding a natural look regardless of the season.
Come with Greenery: Considering not every flower need leaves when making bouquets, so 8 complimentary leaves come with every 25 flowers. More leaves can be purchased separately from our store if you need extra.
NOTE: The faux foam Nigellas are handmade, please understand that it's possible that the flowers might have finger traces left on the flower petals slightly, there also might be a few color differences between different dye lots. The gaps between the petals may not be dyed fully due to the limitation of dying, so it is not recommended to peel them off. If you have any questions or suggestions, please do not hesitate to contact us. We will respond within a business day.
Details: Ling's moment Artificial Flowers -These roses are made of soft high quality foam which gives them the look of fresh roses. Each rose has it's own wire stem which is approx 8 inches long. The wire stem is thin as you may see from the picture, which makes them very easy to work with. It's easily bent or cut down as you need so they are perfect for making bouquets, centerpieces, kissing balls, boutonnieres or any other flower decorations/arrangements that you want at your wedding, party, baby shower or home,etc.
Package Dimensions: 10.9 x 10.1 x 2.2 inches
Amazon Affiliate

Oaklynn Lane is a participant in the Amazon Services LLC Associates Program, an affiliate advertising program designed to provide a means for sites to earn advertising fees by advertising and linking to oaklynnlane.com.