Ling's Moment Artificial Flocked Eucalyptus Greenery Spray, 18pcs Fake Branches Best Filler Faux Plants for DIY Wedding Bouquet Table Centerpieces Floral Arrangement and Christmas Decorations
Hurry, only 3 items left in stock!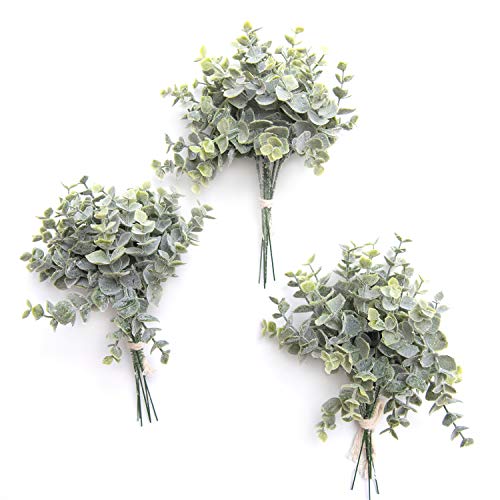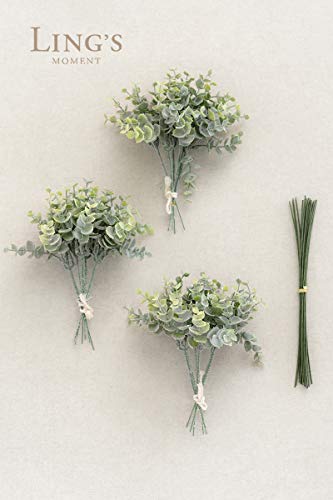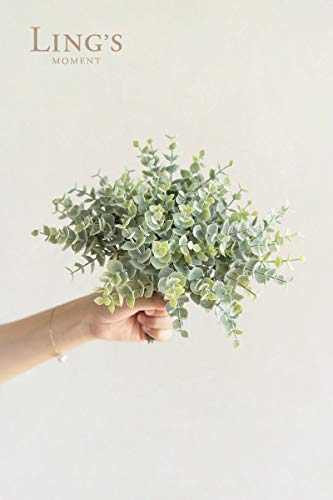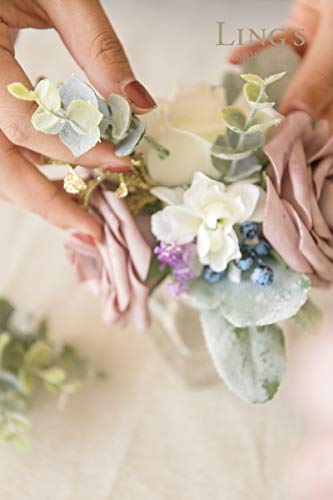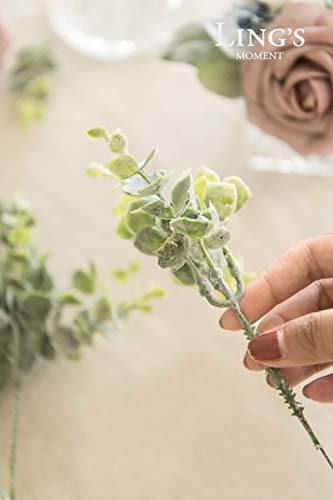 Product Details
Brand: Ling's Moment
Color: Sage Green
Features:
What You Get : Package included 18 sticks Flocked Silver Dusty Baby Eucalyptus spray. the size is approx. 8" long , each stick has 5 stems and about 60 leaves
Premium Material: The baby eucalyptus leaves are made of plastic ,they are lifelike and durable. The stems are made of iron wire wrapped with plastic, you can bend the branches into any shapes you want,all the spray are full of flocking
Impressively Realistic: The eucalyptus greenery sprays not only covered with realistic flocking, but also from the bottom to the top, the size of leaves gradually becomes smaller, the color of leaves becomes lighter, which brings a more vivid texture and nature feel
Versatile Uses:The eucalyptus greenery stems are suitable for making bouquets, centerpieces, boutonnieres or Christmas decorations/arrangements that you want at your wedding, party, baby shower.
Satisfied Customer Service: We have more than 14 years experience for wedding decoration. Please don't hesitate to contact us if you have any questions or suggestions. We will contact you as soon as possible.
Binding: Kitchen
model number: LEV008-ECL-3
Part Number: LEV008-ECL-3
Details: Package Included: 18 x Silver Dust Baby Eucalyptus leaf Greenery Spray Box Set is perfect for Indoor, Outdoor, Autumn, Wedding, Door, Fireplace, Thanksgiving, Festival, and Dinner Party, as a kind of hanging plants. It can also decorate the balcony, garden, wedding, table, swing stand, stair banisters, restaurants, office, or any places lack of artificial garlands.
Package Dimensions: 14.8 x 3.3 x 3.2 inches
Shirt Sizes

Size guide

For our super soft Tees, use the sizing chart below!

| | | |
| --- | --- | --- |
|   | LENGTH | WIDTH |
| XS (inches) | 27 | 16 ½ |
| S (inches) | 28 | 18 |
| M (inches) | 29 | 20 |
| L (inches) | 30 | 22 |
| XL (inches) | 31 | 24 |
| 2XL (inches) | 32 | 26 |
| 3XL (inches) | 33 | 28 |
| 4XL (inches) | 34 | 30 |
| 5XL (inches) | 35 | 31 |