Ling's Moment 7 Inch Marsala Artificial Flowers Bridesmaid Bouquets for Wedding,Set of 4,for Wedding Ceremony and Anniversary
Hurry, only 3 items left in stock!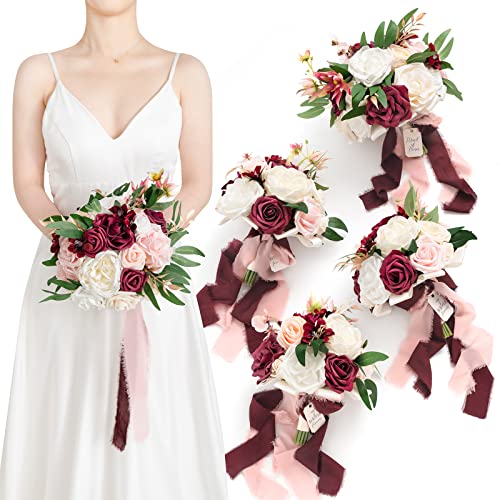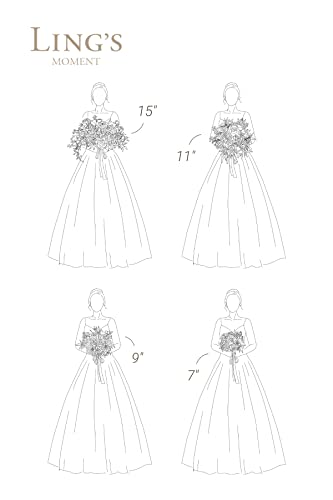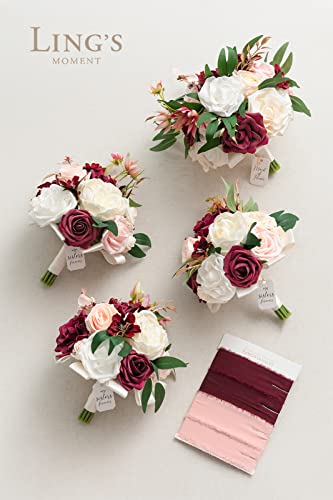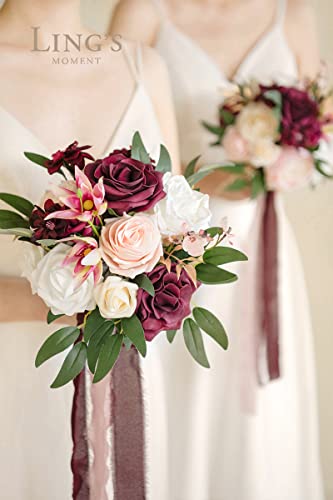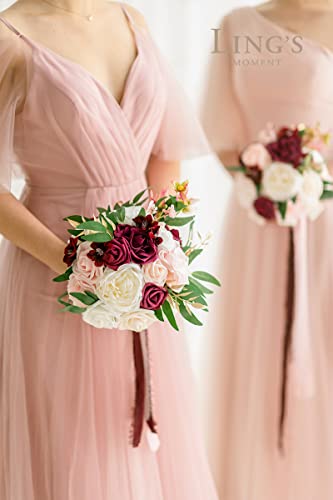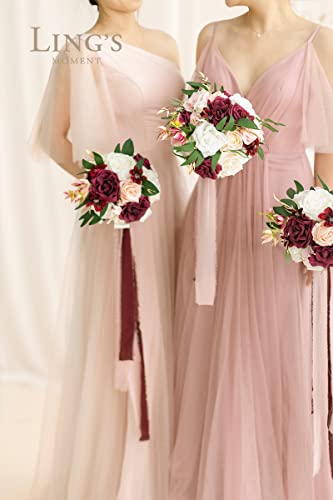 Product Details
Brand: Ling's Moment
Color: 06-marsala
Features:
Material: An organic mix of floral blooms in burgundy, blush and white rose make for a moody masterpiece,sprinkled with pink lady orchid and greenery.
Great Value: 9" maid of honor bouquet x1, 7" bridesmaid bouquet x3, may fit the number of the bridesmaids.Bouquet. Attending with 13-inch marsala and dusty rose chiffon ribbon. To prevent the ribbon from falling out of the bouquet during transportation, the ribbon has been fixed in advance with glue.
Pre-made & Convenient: READY TO USE. The bouquet of flower for wedding will never wilt and ready whenever you need them so you could order these ahead of time.
Perfect for rustic wedding ceremony, bridal shower,rehearsal dinner as bridal bouquet, bridesmaid bouquet, toss bouquet or wedding prom props.
Note: There might be a little deform during handling, storing, and transportation. Please adjust the flowers to recover their shapes after receiving them. If there is dust on the product, please gently blow off the dust with cold air from a hair dryer or wipe it with a dry paper towel.
Binding: Kitchen
Package Dimensions: 13.3 x 12.8 x 7.2 inches
Shirt Sizes

Size guide

For our super soft Tees, use the sizing chart below!

| | | |
| --- | --- | --- |
|   | LENGTH | WIDTH |
| XS (inches) | 27 | 16 ½ |
| S (inches) | 28 | 18 |
| M (inches) | 29 | 20 |
| L (inches) | 30 | 22 |
| XL (inches) | 31 | 24 |
| 2XL (inches) | 32 | 26 |
| 3XL (inches) | 33 | 28 |
| 4XL (inches) | 34 | 30 |
| 5XL (inches) | 35 | 31 |