Ling's Moment 7 Inch Burnt Orange Artificial Flowers Bridesmaid Bouquets for Wedding, Set of 4, for Wedding Ceremony and Anniversary
Hurry, only 3 items left in stock!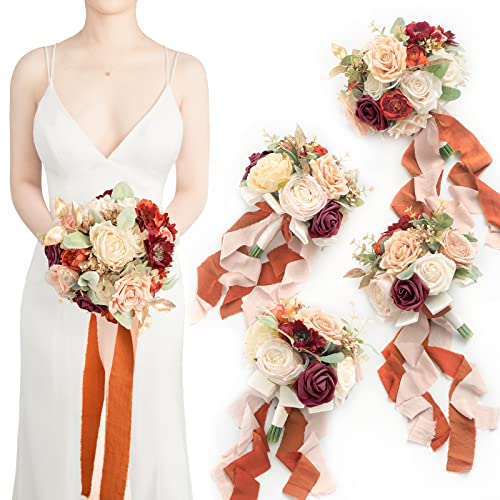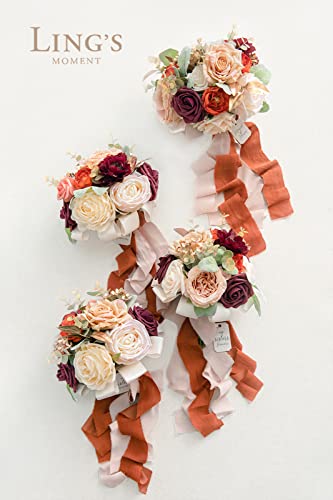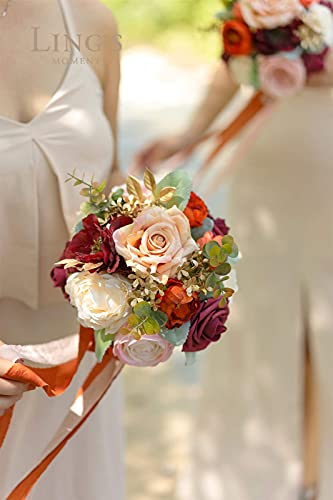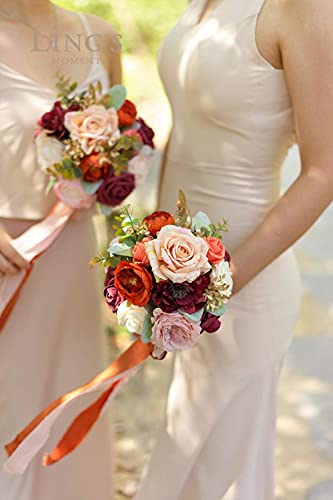 Product Details
Brand: Ling's Moment
Color: 02-burnt Orange
Features:
Material: made of artificial cream and turmeric avalanche roses, burnt orange peony, burgundy flower make for a moody masterpiece, sprinkled with coral petite rose, gold leaves and dusty miller leaves.
Package: READY TO USE. 9" maid of honor bouquet x1, 7" bridesmaid bouquet x3, attached with 13-inch terracotta and peach chiffon ribbon.To prevent the ribbon from falling out of the bouquet during transportation, the ribbon has been fixed in advance with glue.
Sunset terracotta has possibly the greatest palette for fall wedding event flowers. Terracotta paired with rustic, yet chic details and retro touches created a warm and elegant result!
Perfect for a rustic wedding ceremony, festivals, bridal shower, rehearsal dinner, vintage parties, church, snapshot, etc. as bridesmaid bouquet, toss bouquet or wedding prom props or photography props.
Note: There might be a little deform during handling, storing, and transportation. Please adjust the flowers to recover their shapes after receiving them. If there is dust on the product, please gently blow off the dust with cold air from a hair dryer or wipe it with a dry paper towel.
Binding: Kitchen
Package Dimensions: 13.7 x 13.5 x 7.3 inches
Amazon Affiliate

Oaklynn Lane is a participant in the Amazon Services LLC Associates Program, an affiliate advertising program designed to provide a means for sites to earn advertising fees by advertising and linking to oaklynnlane.com.