IGAN 7-inch Wire Cutters, Spring-loaded Side Cutters Dikes, Ultra Tough and Durable Diagonal Cutting Pliers in CRV Steel, Heavy Duty Cutting Pliers for Electrical, Artificial Flowers and Homes
Hurry, only 3 items left in stock!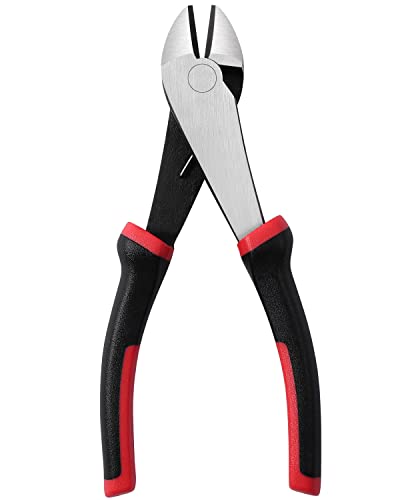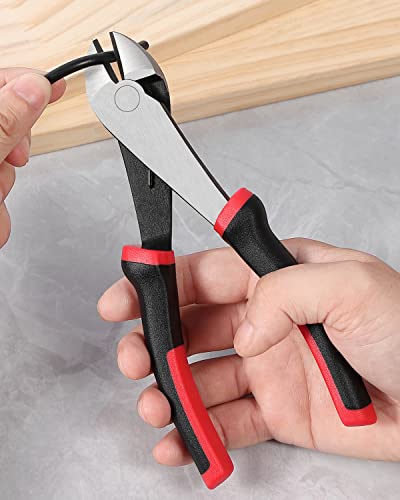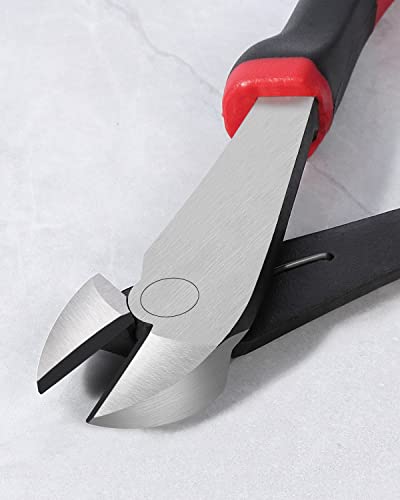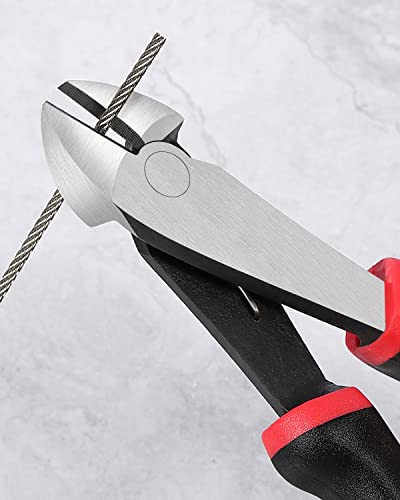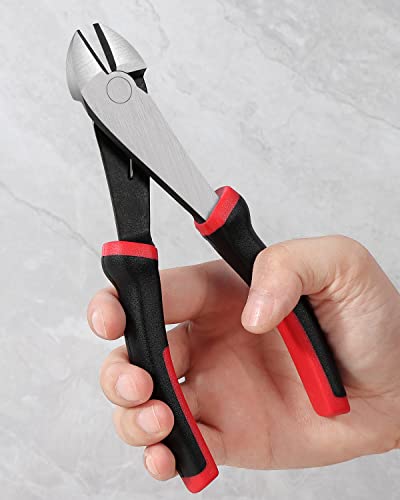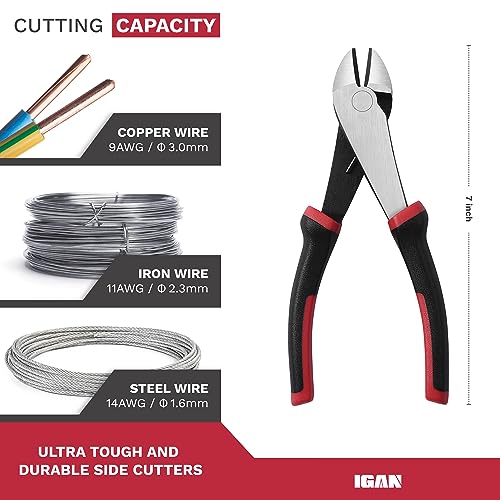 Product Details
Brand: IGAN
Color: Black
Features:
1.Ultra Tough and Durable Side Cutters: Forged from tempered CR-V Steel, the jaws are hardened by induction heating and quenching.
2. Spring-loaded dikes pliers, High-leverage design, minimizes hand fatigue from repetitive work. A Superior Labor-saving Diagonal Pliers.
3. Wire Cutters Heavy Duty: The long jaws can cut steel wire up to 1.6 mm/0.063 inch and copper wire up to 9 gauge.
4.Comfortable Padded Handles: It offers a higher performance and enables to easily identify.
5.Ideal Diagonal Cutters for cutting artificial flowers, chicken wire and electrical work.
Binding: Tools & Home Improvement
model number: 330DC-7
Part Number: 330DC-7
Details: IGAN-DC7 The Heavy-duty, Durable, Wire cutters IGAN was originally founded in 2002 with an independent team of laboratory engineers. Specializing in the development and design of accessories for hand tools, automotive supplies, sports facilities, and fishing industries. Tough and Durable The IGAN Dikes cutters are forged from tempered high carbon steel and the cutting edges are hardened by induction heating and quenching, provides superior cutting ability and cutting edge life. High-leverage The pivot is closer to the cutting jaws, which will increase leverage and thus Cutting efficiency. Superior Labor-saving Tools A spring-loaded mechanism that opens the handles automatically after every cut. Ideal for repetitive work to minimize hand fatigue. Cutting Ability Steel wire Φ1.6 mm(0.063 inch) Iron wire 11 AWG(Φ2.3mm) Copper wire 9 AWG(Φ3.0mm) Soft wire 9AWG Plastic Φ4.0mm Comfortable Padded Handles It is wider and thicker than the dipped handles. Can greatly reduced hand strain on difficult repetitive cutting and provides a higher performance. Warranty At IGAN, we back them all with a full lifetime warranty and provide friendly, easy-to-reach support, and Free Lifetime Technical Support also. Don't Waste Another Minute! Click Add To Cart Before We Run Out Of Stock!
EAN: 0791295089978
Package Dimensions: 8.7 x 3.1 x 1.0 inches
Amazon Affiliate

Oaklynn Lane is a participant in the Amazon Services LLC Associates Program, an affiliate advertising program designed to provide a means for sites to earn advertising fees by advertising and linking to oaklynnlane.com.