Geometric Vase Gold Hinged Esmiome - Vases for Centerpieces with 5 Test Tubes, Geometric Decor Metal Frame can be Bent, Geometric Vases Wire Propagation Station Plant Holder Modern for Wedding, Home
Regular price

$44.99

Sale price

$39.99
Hurry, only 3 items left in stock!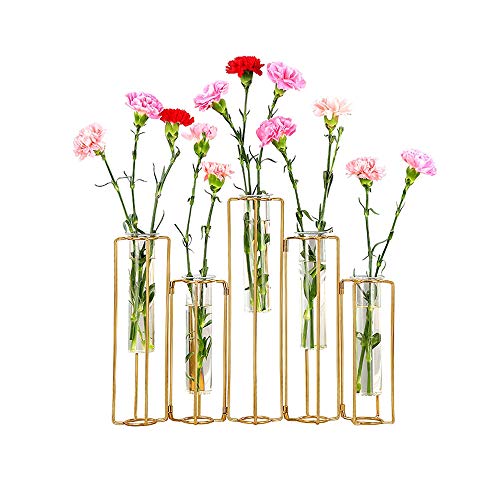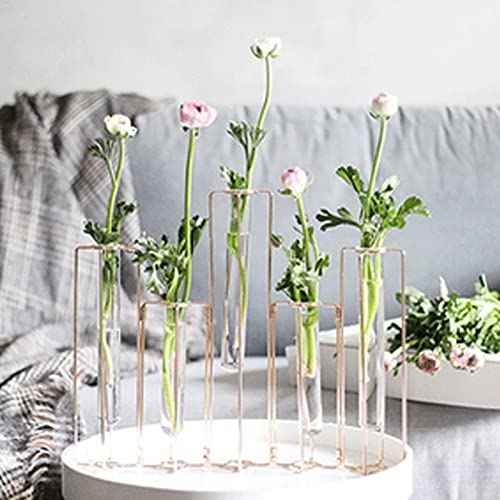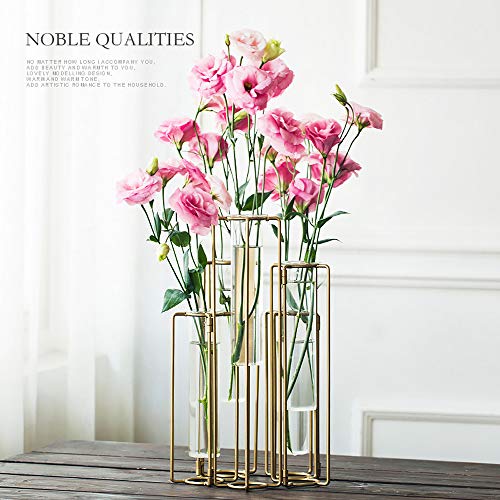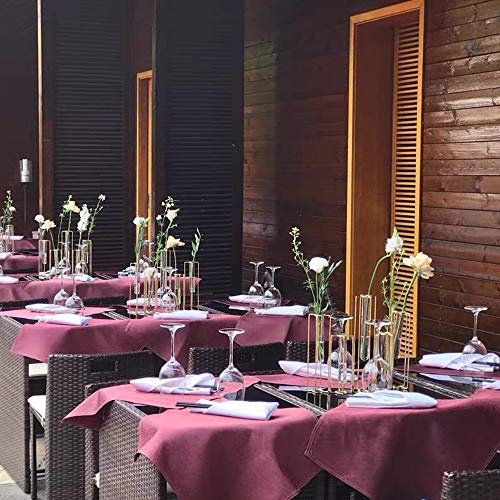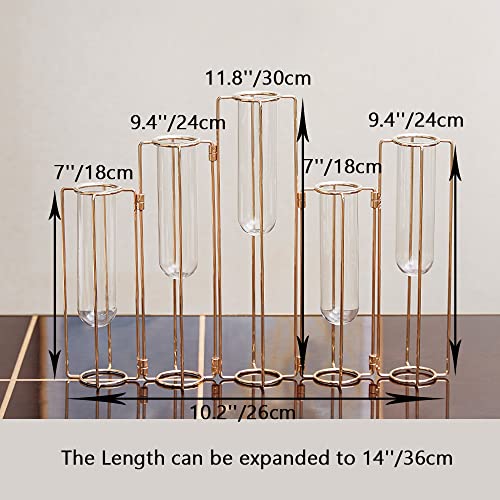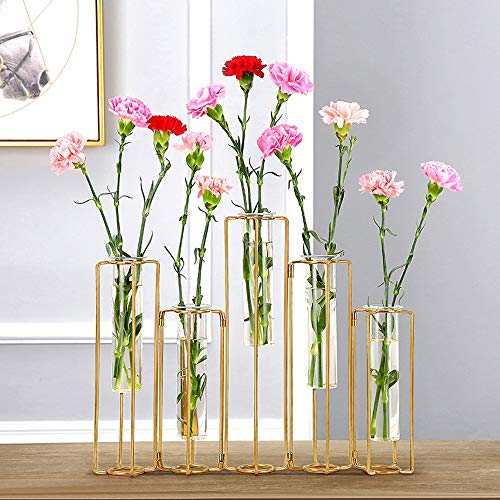 Product Details
Brand: Esmiome
Color: Gold
Features:
Can be bent freely: 1 vase/unit, comprised of 5 individual flower tubes hinged together, they can be bent and contorted into various lines, curves and clusters. Put some flowers in it to match your decor to make it looks beautiful.
Strong and durable: The base of our test tube flower vases is thicker, stronger, the iron metal materialand welded firmly, high quality, can be used for a long time. The mouth of the bottle is smooth and round and does not hurt your hands when planting.
Variety of decoration: Our hinged flower vases are very best for planting. Suitable for living room, study, dining room, bedroom, study, balcony, put a bouquet such as silk flowers, gypsophila, rhizome plants for cultivation.
Slender waist test tube: The test tube diameter is 1.5''/3.8cm, and the waist is slender, great for different decoration styles, so that you can be in a beautiful scenery every day and feel happy every day.
Suitable for young plants, creepers, grasses, shrubs and small ferns; glass products are fragile, please contact us in time if there is any damage, we will reship or refund for you.
Part Number: shizi-jin
Details: Metal iron art conjoined shape, multiple test tube glass allows you to experience the joy of planting different plants. Do you also want a connected vase, beautiful and generous, as an ornament for decorating your home life. We highly recommend it, because she has many recommended places: 1. The propagation tubes is firm welding, no rust, long service life. 2. Our hinged flower vases have transparent glass, clearly visible rhizomes in the water, allowing plants to easily absorb water and thrive in the sun. 3.Can be bent and contorted into various lines, curves and clusters, help create your hands-on ability. 4. You can decorate various plants at the same time. 5. Our glass tubes for plants is best for living room, study room, dining room, bedroom, study room, balcony. SPECIFICATION: COLOR: Black/Gold SIZE: 10.2''/26cm(Length), Can be expanded to 14''/36cm; 11.8''/30cm; 9.4''/24cm; 7''/18cm(height); 1.5'' / 3.8cm(Width); Test tube:0.86''/2.2cm(Diameter); 5.9''/15cm(Highest); MATERIAL: Glass+Metal iron PACKAGE INCLUDE: 1 x Black hinged flower vases(with 5 Test Tubes) [HelloHome] [Esmiome] is a seller who committed to providing the best service. We have been selling home furnishing products for more than 10 years, and each product is inspected and repackaged and sold to all parts of the world.
Amazon Affiliate

Oaklynn Lane is a participant in the Amazon Services LLC Associates Program, an affiliate advertising program designed to provide a means for sites to earn advertising fees by advertising and linking to oaklynnlane.com.